Accessibility statement
Skip to products grid selection
Free Shipping for DC Crew Members
Skip to search filter criterias
Skip to sort by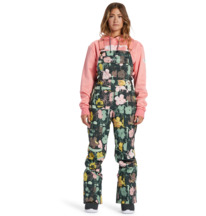 Women's Snowboard Pants & Bibs - Shop the Collection Online Now
A long day on the mountain calls for a pair of snowboard pants that is able to endure wet and cold conditions for as long as you desire to play in the snow. DC Shoes snow pants are designed to adhere to exceptionally high standards because we understand snowboarding, and the harsh conditions that sometimes come with it, and we want your gear to be capable of fighting the elements so that you don't have to. Along with being snowboarders, we are also passionate designers, constantly working to innovate new ways in which our collection of women's snow pants can out do each previous season.
Keep the Snow on the Mountain: DC Shoes Women's Snow Pants Keep You Dry
Damp pants can really put a damper on your day. As snowboarders, we are constantly sitting down to strap into our board or adjust our bindings, and this means that our snow pants are in constant contact with the wet, freezing ground. Don't settle for anything less than the best when it comes to women's snow pants, so that you never have to worry about your time in the snow causing any discomfort. A proper pair of DC Shoes waterproof snow pants or goretex snowboard pants for women will surely do the trick in proving the layer of protection you need to keep your legs warm and dry all day long. DC Shoes offers a range of weatherproofing levels in its women's snowboard pants and snow bib designs so that you can dress yourself appropriately for the day's conditions. Light to moderate weather conditions in powdery dry snow call for a pair of 5k to 10k snowboarding pants to keep you comfortable throughout the day. If you are going to be snowboarding in wetter snow or heavy wet conditions, a 15k or 20k pair of snow pants for women is capable of fighting the elements from dawn 'til dusk, regardless of what mother nature throws your way. For ultimate protection that is durably waterproof and windproof, choose a Gore tex pair of snow pants to get you through the day with minimal weight and maximum protection.
DC Shoes Snow Pants Are Designed For Women Who Shred
At DC Shoes, we've taken the time to design snow pants for women. This means, we're saying goodbye to awkward fits and repurposed designs, and saying hello to snow pants that are designed specifically with women in mind. We all have unique personal preferences when it comes to how we like our favorite pair of women's snow pants to fit, which is why we have created a range of tailored fits including slim fit snowboard pants so you can find the size and style that feels most comfortable. If you're a fan of the one-piece look, we have women's snow suits and women's snow bibs that will keep you looking fresh and feeling cozy. A snowsuit is a great way to simplify your mountain attire while still keeping you properly protected.
We all know that when it comes to designing the best snowboard pants for women, style has to be a main contributing factor. Express your style personality on the mountain by selecting the pair of snow pants that compliments you best. If you like to keep your bottoms simple, go for a pair of khaki snowboard pants or white snow pants to keep things neutral. Brighten up your outfit with any of our women's snow pants that come in our range of bold colors and patterns. Whatever style you choose, your DC Shoes snowboard pants will add huge value to your time on the mountain.
You Need To Buy A Pair of DC Shoes Snow Pants Today
Your legs deserve the best on the mountain which is why you should make your way to DC Shoes' online store and buy your favorite pairs of women's snowboard pants. Our convenient online store allows you to easily browse all of our snow pants, and our free customer service help line allows you to ask any questions you need in order to find the right match for you. So start shopping because the sooner you do, the sooner you can get back to planning your next trip to the mountains.
Read more
Read less
Contact
1-949-531-7390

Specialists are available:
Monday-Friday from 6AM - 6PM PST
CLOSED Saturday, Sunday and all major US holidays.
FAQ
Get immediate answers to our most frequently asked questions.