Skip to search filter criterias
Skip to sort by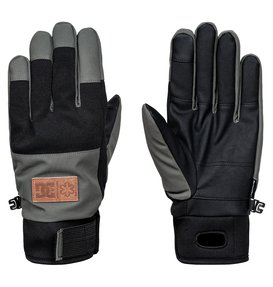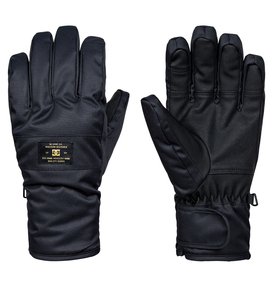 Mens Ski Gloves: Winter Gloves for Guys
Don't let frozen fingers ruin your time on the mountain. Snag yourself a pair of men's ski gloves from DC Shoes to guarantee that your fingers stay toasty throughout the day. At DC Shoes we've seen it all. Our extensive experience as skiers has given us first hand knowledge of what it takes to design top quality, durable accessories that can hold their own on the mountain. Our collection of ski gloves provides ultimate warmth and comfortable construction so you don't get distracted by cold hands while you're enjoying your day.
Farewell Frozen Fingers: DC Shoes Ski Gloves
One of the top priorities when designing our men's ski gloves, is ensuring that they are the warmest ski gloves on the market. Regardless of whether you are staying on groomed runs all day or exploring backcountry trails, thermal gloves that can keep you warm and comfortable from dawn 'til dusk are an essential. We design insulated gloves that can withstand low temperatures and waterproof gloves that will stay dry even if you spend the day digging your way through powder or practicing hand plants in the park. If you're looking for extreme cold weather gloves you can opt for a pair of heated ski gloves to offer your hands some extra protection from the elements. We have all levels of warmth and comfort when it comes to the ski gloves you need to have to make your day that much more enjoyable.
DC Shoes Men's Ski Gloves Are The Best
Looking for the best ski gloves? Your search ends with DC Shoes. We design the best ski gloves and ski mittens that are durable and comfortable for every skier. Men's ski mittens are a great alternative to men's ski gloves. They are just as warm and comfortable, but allow you to keep all of your fingers huddling for warmth in one place rather than fending for themselves individually. Our fleece gloves are truly the epitome of comfort. They are soft and the fleece material traps in warmth quite well. Your hands will be so warm and comfortable you won't want to take your ski gloves off at the end of the day!
Buy Men's Ski Gloves for Yourself Today
Keep your hands comfortable by stocking up on your favorite styles of men's ski gloves from DC Shoes. Our online store has a wide range of ski gloves so you can buy the ones that are the right fit for your style and comfort levels. Our online store is easy to navigate making your shopping experience quick and easy, and our free customer service help line is available to answer any questions that might come up along the way.